Hi friends 👋,
My name is David and I'm a partner at Open Water Accelerator. This week's newsletter features an exclusive interview with Amanda Porter, Talent Lead at GSV Ventures, on how to break into VC and hire at an early stage startup.
Recently we've gotten feedback that our newsletters have gotten too long. As a result, we will be sending 2 newsletters a week. Check your inbox every Tuesday and Thursday morning!
As always, we included some weekly tech news and job opportunities in VC, Finance, and Tech.
---
Apply to Open Water University🎓
At Open Water University we up skill college students and teach them the skills necessary to thrive in a startup environment. In our free 8 week online course students learn how to ship production code.
We teach students how to:
properly document code

use source control

write unit tests

basic cloud architecture

and more
This Spring, enroll in Open Water University as you work towards completing your "CS" Degree. If you are at a participating University, Open Water University can count as an Independent Study.
All Open Water University graduates will be offered a position at an Open Water portfolio company this summer.
---
building teams with Amanda Porter🔨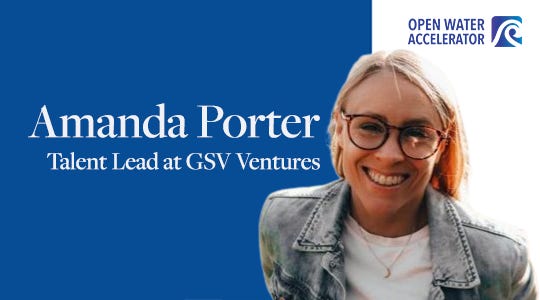 This week we sat down with Amanda Porter, a Talent Lead at GSV Ventures.
What do you do at GSV?
GSV is an early stage venture capital firm investing in seed stage education and technology firms and digital learning startups. We have about 50 portfolio companies at the moment. I help our earlier stage portfolio companies define their values and build out their organizations around those values. I also help hire internally at GSV (Associates, Interns, etc).
How do you help startups make their first five hires?
In the early days of a startup, you need someone who is innately a go getter. Every early employee - founder or not - needs to possess that entrepreneurial spirit. To help founders select early employees, you need to work with them to establish their values and their core mission.
Startups go through seasons. The hire that they're going to look for now may only be needed for two or three years. After that, the seasons change, and not everyone changes with the season.
Some people excel at getting a startup up and running for their first few years. That's their niche and after the startup is established they move on. As a recruiter, I interview different candidates and try to figure out "Will this hire come in and make an immediate impact in their first 2 years to reach our goals (Series A, Revenue Target, etc)"
Early hires at a startup have to be adaptable and comfortable with change. Experience is crucial in the early stages. It can also be a great advantage for an early hire to have a holistic view and understand multiple areas of the company. The first few employees of a company will be part of key company decisions and likely interact with the board. If there's someone who just wants to simply clock in and clock out every day, I think working at a startup is probably not the route to go. At an early stage startup you have to be willing to dive in and fail fast.
This is the mentality I look for, asking candidates "Tell me about a time that you've failed and how did you learn from that? How did you keep going?"
Resiliences is especially important in the early stages of a company.
Do you have any advice for students who are trying to break into venture capital?
I am a huge person of connections, connections, connections, and experience.
There are three points to entry in Venture Capital.
pre-MBA

If you're pre-MBA, then you ideally worked in some capacity in investment banking, consulting, business development, sales, operations or product roles at a startup for a few years post-undergrad.

post-MBA

If you're post-MBA, then ideally you started to find the specific areas you want to work in such as healthcare, tech, education, finance, etc. Ideally you're in that space for a few years prior to your MBA, although this is not a requirement.

successfully founded and exited a startup

You've founded a startup and exited.
I think to be useful to any VC firm, you need real world experience, and at least the beginning of a professional network. As a student, be intentional about where you're putting your time aside from school and internships. More importantly focus on the social community aspect: what clubs or organizations are you a part of, how proactive are you in building out your network.
Start building out a spreadsheet and keep track of names and conversations you are having. This way you're constantly growing your network. I even recommend breaking it down by sector. If you're really passionate about a specific sector, try to build that section of your sheet out.
Just something to think about as you're going through school, but I've noticed that it tends to be difficult to move directly from a pure engineering role into a non technical role (VP of Marketing and customer analysis, etc). However, I still think it can be useful to have technical skills.
Want to work at a GSV Portfolio Company? View open roles below.
---
leaving shore⛵: Astro is raising an angel round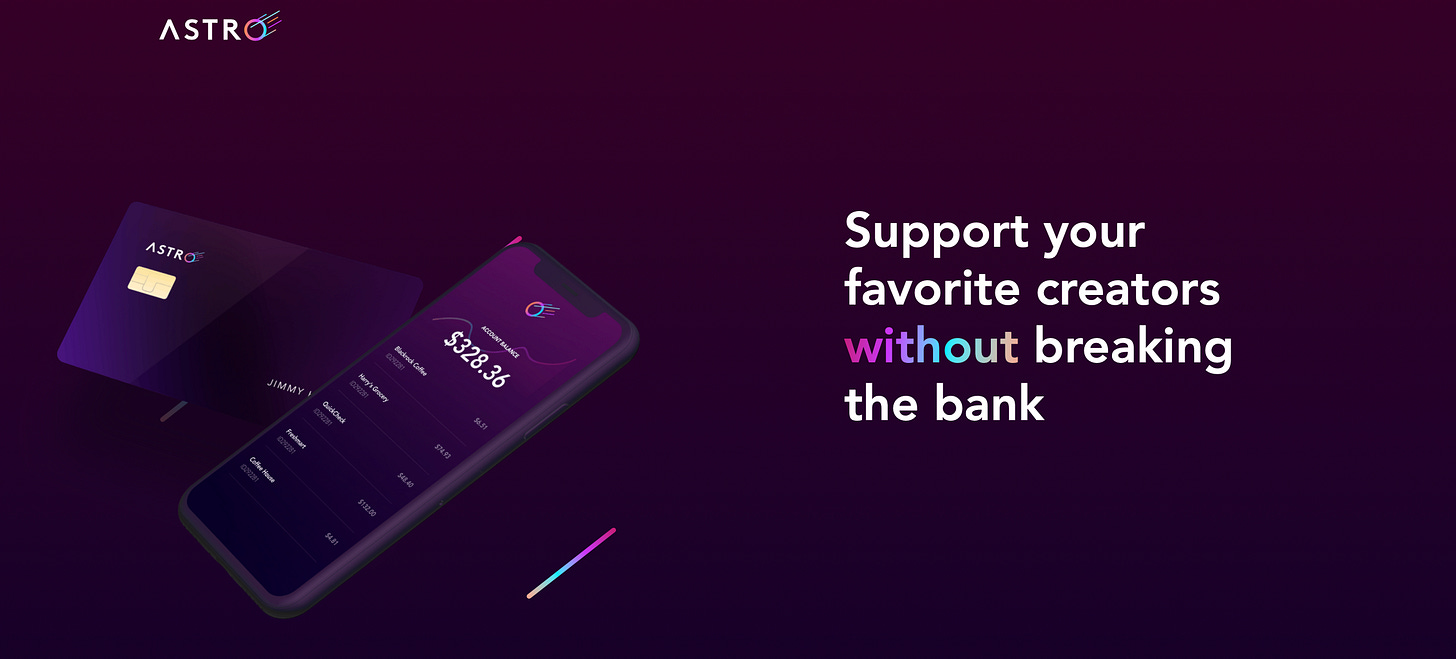 Astro is a rewards debit card + no-fee checking account that allows fans to support their favorite creators with every purchase they make at no upfront cost. Fans earn rewards with creators to spend on unique benefits, access, rare drops, or experiences.
Astro is currently looking to raise an angel round.
Sound interesting? Respond and I'll connect you with the founders.
---
vc, finance, tech internships 🖥️
Exclusive opportunities curated for Open Water Weekly Subscribers. Subscribe today to receive founder interviews and job opportunities delivered directly to your inbox.
---
next week…
Next week's letter will feature an interview with Turner Novak, Partner at Gelt VC, and some more remote job opportunities.