My name is David and I'm a partner at Open Water Accelerator. This week's newsletter features an exclusive interview with Danielle Baskin, founder of DialUp, and Sahil Lavingia, founder of Gumroad and angel investor in Lambda School, Figma, Clubhouse, and others.
As always, we've included some weekly tech news and job opportunities in tech and finance.
---
viral fundraising: Danielle Baskin 🦄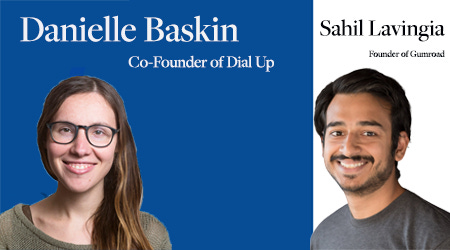 Danielle Baskin is the founder of DialUp, a new audio social network. Her past projects include VC Trading Cards and Branded Fruit for conferences. Most recently, she was interviewed on the Today Show and Colbert's Late Show for selling face masks printed with memes.
Baskin took a unique approach when raising her most recent round for DialUp. Instead of asking for warm introductions to investors, she created a chain email where participants had to forward the email to 5 investors to get a meeting. The email chain went viral.
You launched your current round of fundraising with a viral chain email. What was the motivation behind the stunt and how did it go viral?
While raising our most recent round at DialUp, I was getting intros to investors from friends. I found this kind of boring and didn't want to keep asking for introductions. Of course friends are happy to do it, but no one likes asking for help and asking for an intro. It's such a burden. I also didn't want investors to meet with me out of obligation.
I wanted to spam all potential investors, tell them what I was working on, and gauge interest. That's when I thought of the chain letter.
I tried to replicate that style of old chain mails from around 1999, even down to the multiple fonts and gifs. I actually looked at a lot of websites that had archives of chain letters and tried to imitate the language with phrases like, "it might sound ridiculous, but it really works," and other things like that.
I thought the email served the purpose of reaching the investors, but I didn't know what would actually happen when I sent it. I thought, well, if this goes nowhere, at least I'm entertaining the friends I sent it to and they can see my "I'm a joke" fundraising strategy that I'm done with intros, let's just do chain letters. However, people actually forwarded it.
I sent it to five or six friends and founders. I didn't directly send it to any investors. It kind of just spread from there. When you have one note and then you send it to five people, and at least one of those people sends it to five others, it branches out pretty quickly. I think it reached over 500 shares within the first two weeks when we were doing analytics on it. Many investors reached out without even seeing the deck.
There actually was no deck. It was just about creating a sense of intrigue, which I guess says a lot about how investors are motivated.
Before an investor takes a meeting, they want to know that that person is validated in some way, that they know someone who knows someone. Because investors were receiving this list of familiar names on the list of forwards, they said, "Oh, this must be legitimate."
I think our conversion rate was 12%. In order to get the followup, you had to have followed the instructions and forwarded it five times. I didn't send a followup email to just anyone who received the chain letter. You had to earn it.
If you did, you got a link to a mysterious video telling you to book a meeting on Calendly. We got over a dozen meetings and are still in conversation with some of them, which is interesting because we never directly reached out to any of these firms.
What is your secret for going viral?
I do weird stuff all the time; it's just in my personality. I've been doing this since I was a teenager. I try to make content that entertains me or my friends and it often gets introduced to a lot of people on the internet.
I feel like this is just a trend with things that I create, but I've done a bunch of different stunts. My goal is to create funny content. An example of this is my project from a few years ago, VC Trading Cards, which was featured in TechCrunch.
For every investor that I included, I put their number of exits, number of investments, a list of notable companies, their hometown, when they were born, and a fun fact. There's a set of five random cards in each pack, but the most difficult part is that they all have stats. It was actually a lot of work to make. I won't reveal how many there are, because each pack is different, but there's a lot of cards.
Finding facts could be difficult. I would usually start by reading bios on Crunchbase or looking at Twitter. I thought it was interesting to think of investors as baseball players, sort of like you're cheering for them.
I don't think there is a fantasy sports culture around investors. If there is, I'm not aware of it. But there definitely is a culture of following VCs and getting points for their thoughts on Twitter.
Tell me about the future of DialUp and your take on audio social networks.
I'm definitely more interested in intimate conversations that let people have a platform if they don't already have one. I don't really want to cater towards people who already have a following on YouTube or Twitch or Twitter, so that they can have yet another following on a different platform. I'd love for DialUp to be a place where someone can have this type of nourishing conversation without being a celebrity. So that's how we're different from other social networks. Of course, our product is still very young. I think that there's experiments to be had with both listening and with larger group calls, but a core focus of our app is not FOMO. In that way, it's not the same as typical social networks. We have different values than Clubhouse, which will shape our product decisions.
What is the biggest risk you have ever taken?
I think it's kind of interesting that people think that starting a company is a risk. You can set up an LLC in a day and it doesn't cost much; it's totally possible to start an alternative career without quitting your job.
I think something that I do that is risky is that throughout different periods of my life, I've never had a full time job. I've never had any financial stability besides relying on my own projects.
I've had moments in my life where I've had $0 in my bank account and I'm still trying to sell whatever product I'm selling. I've declined paid opportunities because I thought my company would work.
Of course that's a total risk. I think that your level of risk is dependent on your personal situation. For me, it didn't feel like that serious of a risk because I don't have a family and I don't have people reliant on me. I'm very lucky that I just have to focus on myself. I think that risks come when you're financially responsible for other people or employees.
The riskiest thing that I've done is putting myself in danger of physical harm trying to explore an abandoned island, but that's a long story and has nothing to do with entrepreneurship.
---
rapid fire with Sahil Lavingia🔥
This week we sat down with Sahil Lavingia, founder of Gumroad, second employee at Pinterest, and angel investor in Lambda School, Figma, Clubhouse, and others.
How did you get your first hundred customers?
Cold emails. I just cold emailed every single one of them.
What is the biggest risk that you have ever taken?
I don't know if I've taken any big risks. To be honest, I don't think I'm a risk taker in the sense that I don't do anything that's dangerous. All the risks I take are just time risks; it's just opportunity cost.
I haven't lost any real money. I've done some angel investing but again, never investing more than I could afford to lose. So it doesn't feel like much of a risk.
What do you think the future of software is?
Honestly, I can't tell you, because I'm trying to invest in it and I don't want anyone to know.
Read more about Lavingia here.
---
our take on audio social networks 📣
The past few weeks have been dominated by news of Clubhouse, an invite-only audio-based social network. Lavingia is an early investor in Clubhouse and Baskin's startup DialUp is one of Clubhouse's many competitors.
Clubhouse's value add is that it distributes unfiltered conversation and provides spontaneous discussion. Figures from Marc Andreessen to Oprah contribute to Clubhouse discussions.
A few weeks ago, we reported on a leaked Clubhouse conversation. This incident is a sign of issues to come with scaling the platform. Clubhouse's value is privacy. If privacy is infringed upon, users will be afraid to create content on the app. Controversial and difficult topics cannot be explored if users are afraid of being misquoted.
As a result, the thoughts and discussion of industry leaders will retreat into private invite-only rooms in the months to come. More public conversations will be held in listen-only rooms, turning Clubhouse into a live podcasting platform.
We predict that Clubhouse will become a community discovery platform. Clubhouse will curate invite-only rooms and create tools that help users find likeminded people, similar to LunchClub's matching algorithm.
Clubhouse's main competitors are neither Twitter nor Instagram; they are actually Discord and Lunch Club. Discord, and Slack currently host many online communities. However, these communities are difficult to locate and moderate. If Clubhouse can perfect community discovery and matching, it will become the home of discussion for internet communities.
---
things we love💜
📱App - Plan is part calendar, part project-manager. This app automates work life so you and your team can work less and do more.
📰Newsletter - 🦄 Unicorner is the premiere newsletter for learning about hot startups in dozens of different industries. Subscribe here to receive 3 startup rundowns each week.
🎤Event: InternCon 2020, the largest conference For and By interns. Come hear from 25+ speakers from top companies and venture funds for a day of learning, networking and socializing. Get your ticket at internconference.com
---
tech and finance internships
Exclusive opportunities curated for Open Water Weekly Subscribers. Subscribe today to receive founder interviews and job opportunities delivered directly to your inbox.
---
next week…
Next week's letter will feature an interview with Austin Alfred, co-founder of Lambda School, and some more remote job opportunities.