building teams with hunter walk
interview with hunter walk, introducing open water university, and more
Hi friends 👋,
My name is David and I'm a partner at Open Water Accelerator. This week's newsletter features an exclusive interview with Hunter Walk, partner at Homebrew and founding team member at Linden Lab (creators of Second Life).
As always, we included some weekly tech news and job opportunities in tech and finance.
---
building teams with Hunter Walk 🔨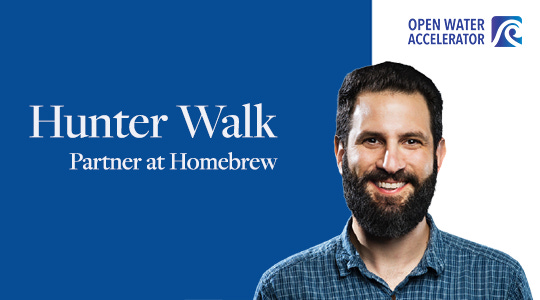 This week we sat down with Hunter Walk. Walk is currently a partner at Homebrew, a seed stage venture fund. Previously Walk:
led consumer product management at YouTube

joined Google in 2003 managing product and sales efforts for Google's contextual advertising business

founding member of the product and marketing team at Linden Lab, the creators of online virtual world Second Life.

spent a year at Late Night with Conan O' Brien, broadcasting to an audience of insomniacs, truckers and college students.

earned a BA in History from Vassar and an MBA from Stanford University.
What do you look for in founders?
Ask most investors and they'll give you a generic answer like "we're seeking top founders who are going to build world-changing companies!" and of course, that's our goal too. But since so much of this business is about the relationship between an investor and the entrepreneurs they back, it helps both sides to be more specific about the situations where a VC thinks they're the best match.
For seed stage companies, I believe Homebrew is best when:
There is strong founder <> market fit: the founders we back usually have some depth of connection, commitment or insight to the problem they're trying to solve beyond the fact it's a valuable market or backable idea. And they've been deliberate as a founding team in understanding why they're working together beyond just personal affinity.

Founders who treat their company as a product: a certain care and deliberateness in the type of company they want to build. This is reflected in their values, the culture, the way they hire and so on. Whether a first time founder or fifth time founder, they have a belief about how they want to build, not just what they want to build.

Attitude in addition to aptitude: We just love supporting founders who are resilient and mission-driven, in addition to smart. Startups are tough! Persistence is underrated. Investing in someone who keeps pushing forward and wants to grow as a person, as a leader, as an executive - that's an absolute joy.
What is the biggest risk you have ever taken?
I've come to look at risk in a very personal manner because each person's situation is different. In hindsight, it wasn't that risky for me to join a crazy little startup after graduate school, or to leave Google and start a venture firm. I was likely going to be fine regardless. The greater risks in my life have come from confronting beliefs or vulnerabilities that were strongly held but failing me. One of those was a stubborn need for a sense of control and the notion that happiness equaled complacency. I'm still working on these, but starting therapy in 2011 was probably the "biggest risk."
What advice do you have for for first time fund managers?
Be framework-driven, but remember that frameworks aren't there to prevent exceptions, just to help you know when you're making them. For example, let's say your framework is "we invest $250-$500k checks into seed stage companies" but you're presented with an opportunity to put $500k into a Series A company you just really truly believe in and have worked hard to build a relationship with the founder. Don't reject it out of hand just because you need to remain 'disciplined' - be open to making a calculated decision every once in a while. It's another 80/20 type of thing - expect that 80% of your decisions will be consistent with your meta-strategy and 20% can have some degree of boundary-pushing.
Who did you look up to while growing up and who inspires you today?
I'm not big into role models in this sort of way. I admire the way certain people live their lives, and more specifically, how they handle certain situations or decisions, but I tend to not seek others for inspiration. Maybe 'appreciation,' is the better word? I appreciate the way my Homebrew partner Satya puts real time into the societal causes he cares about. I appreciate the self-reflection and personal evolution that someone like Brad Feld puts out there. I appreciate how Kerry Washington uses her platform.
At SecondLife you helped build a world. How did your time at SecondLife influence your thoughts on the future of VR/AR?
Well, for better or worse, it made me really bearish in the 2014-2018 hype cycle because I just didn't believe there was going to be enough sell-through of VR-specific equipment. VR in particular is one of those elusive markets to time and so far we've decided to just stay away. AR is much more promising as a nearterm technology that can solve actual problems in learning and development, corporate training, manufacturing and so on. We have a few investments there including Camera IQ, which gives developers and marketers the easiest way to create and deploy AR experiences for all the major camera platforms.
While at Google you had the opportunity to guide legendary products. How do you build great product focused teams?
The answer to this question could be a book in itself! Here's one truth I believe - disruptive products come from collaboration, not consensus. So I believe that great product focused teams have to build cultures and processes which invite in debate and data at appropriate times, but ultimately are the judgment calls of the people on the team in their particular areas of ownership. It's the job of the product lead not necessarily to be the one who makes all these decisions (although there will be some they need to resolve) but to ensure the team understand the ultimate vision and goals.
---
Introducing Open Water University🎓
We up-skill MiT CS graduates
Startups don't want to hire recent Computer Science graduates. In the United States, undergraduate Computer Science focuses on algorithms and data structures but neglects to teach practical coding skills.
Early stage startups want to hire Engineers that can start building from Day 0. For many companies, this means an Engineer who has spent 2 or more years at a FAANG company. Unfortunately, these engineers are expensive and you have to hire around their vesting schedule.
At Open Water University we up skill college students and teach them the skills necessary to thrive in a startup environment. In our free 8 week online course students learn how to ship production code.
We teach students how to:
properly document code

use source control

write unit tests

use product management tools

work in an async team

basic cloud architecture

and more
This Spring, enroll in Open Water University as you work towards completing your "CS" Degree. If you are at a participating University, Open Water University can count as an Independent Study.
All Open Water University graduates will be offered a position at an Open Water portfolio company this summer.
We are accepting our first class of 100 students this Spring. To apply, please fill out the form below.
---
leaving shore⛵: Sencha Credit is raising an angel round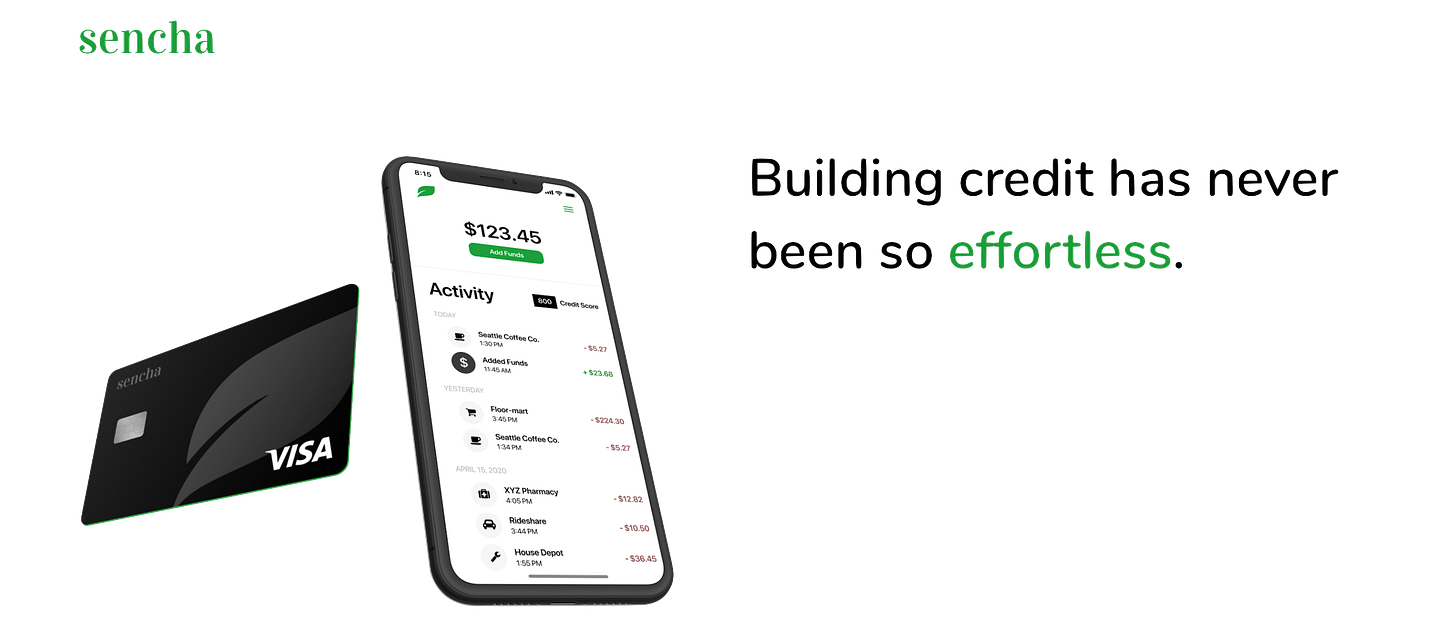 Sencha is a debit card that builds your credit like a credit card.
Why Sencha?
Guaranteed approval

No one should be denied the opportunity to build credit. You don't need any credit history to be approved.
No debt and no fees

You're in charge of your own spending limits. Deposit money into your Sencha account to add to your account balance to start spending.
Build your credit fast

Every single purchase will count towards building your credit. Spend as you normally would with your Sencha card, and we'll establish your positive payment history.

Sencha is launching in early December. Sound interesting? Respond and I'll connect you with the founders.
---
tech and vc internships 🖥️
Exclusive opportunities curated for Open Water Weekly Subscribers. Subscribe today to receive founder interviews and job opportunities delivered directly to your inbox.
---
thursday…
Thursday's letter will feature an interview with Amanda Porter, talent lead at GSV, and some more early stage deals and remote job opportunities.