Hi friends 👋,
My name is David and I'm a partner at Open Water Accelerator. This week's newsletter features a leaked investment memo for Sencha Credit, remote jobs in VC and tech, and a pre-seed deal.
---
*leaked* Sencha Credit investment memo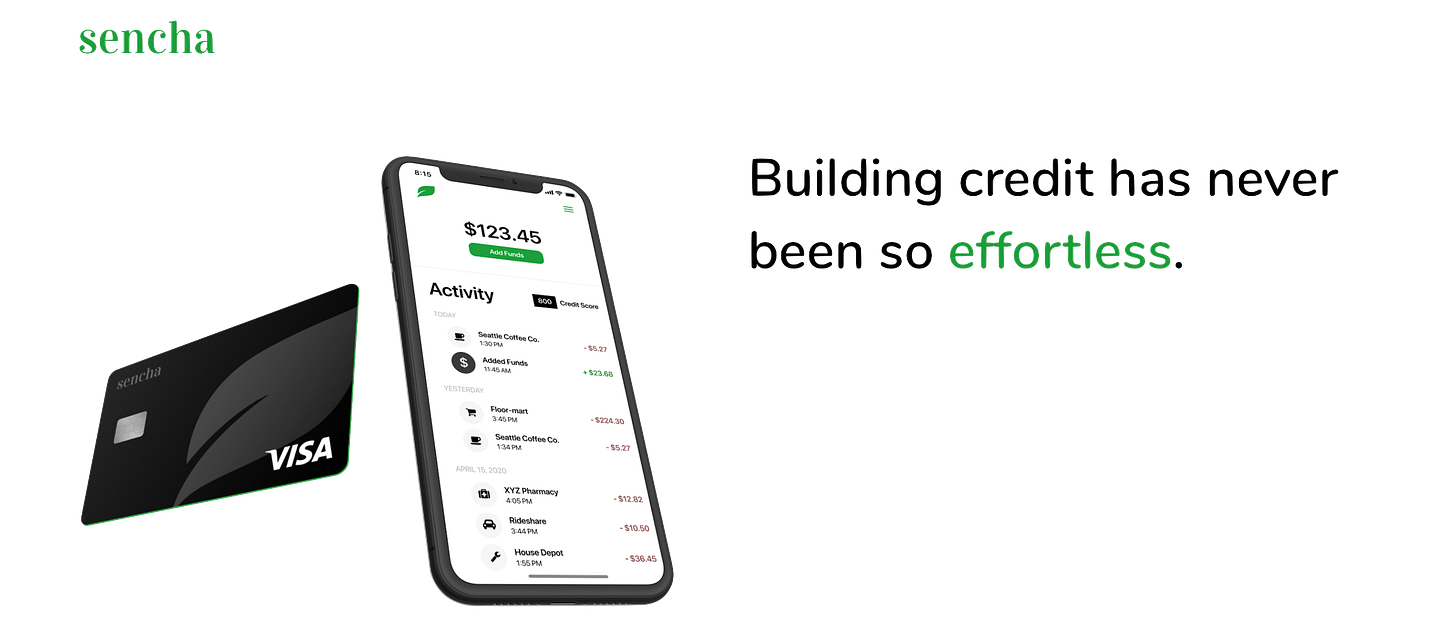 This week we decided to leak our investment memo for Sencha Credit (F20). Sencha Credit is one of the ten companies in Open Water's Fall Cohort.
Sencha is building a debit card that builds credit like a credit card. For early access, join the waitlist below.
---
The memo has been edited for brevity and all confidential information has been redacted.
---
company purpose
Sencha Credit's goal is to create economic mobility. The first product, Sencha I, will help the underbanked build credit. Ultimately, Sencha will build a "consumer Brex" with a suite of financial products to serve all Americans.
---
problem
hard for college students and underbanked to build credit

Sencha was built out of the frustration of not being able to be approved for a credit card and not being able to build credit effectively due to lack of credit history. No one should be denied the opportunity to build credit.

Millennials and GenZ are hesitant to carry credit cards

23% of Millennials do not carry a credit card. Unlike previous generations, Millennials are savvier consumers. Burdened with student debt, they understand compounding interest rates and are hesitant to get a credit card. When they do get a credit card, they prefer to pay it off each month and still continue to use their debit cards.

It can be assumed that GenZ will also be slow to adopt credit cards as they come of age.

difficult to apply for new credit cards

The switching cost for credit cards is high. The applications are tedious and younger applicants are afraid that applying for a new credit card will lower their credit score.

---
solution
Sencha I
The Sencha I is a debit card that builds credit like a credit card. The target market for the Sencha I is college students and the entire experience is designed mobile first.
Unlike other cards, the Sencha I:
Guaranteed approval

No one should be denied the opportunity to build credit. You don't need any credit history to be approved.
It's free. No debt and no fees

You're in charge of your own spending limits. Deposit money into your Sencha account to start spending.
Build your credit fast

Every single purchase will count towards building your credit. Spend as you normally would with your Sencha card, and we'll establish your positive payment history.
future products
Once the user builds their credit, they will have an option to apply for the next Sencha card. Since the user is already in the Sencha ecosystem, they can apply in 1 click and receive quick approval.
*future products have been redacted from this memo*
---
market
The credit card market is over saturated and CAC is high.
Legacy credit card providers are boring and have poor mobile experiences. Current credit card startups focus on flash and lack brand identity.
The "playbook" for the average CC startup:
build a slightly better expense tracking app

provide a metal card

lure consumers with crazy incentives and targeted ads
Ultimately, most credit cards on the market lack identity. ($100 to any subscriber who can tell us what Petal stands for).
why Sencha?
Sencha is a tool for economic mobility. The first product is targeted towards those at the start of their financial journey (students and underbanked). Sencha will help you build credit and once your credit is stable make it easy to enroll in a premium credit card with rewards.
---
The following sections on Sencha's competitors, traction, go to market, expansion and other analysis have been redacted from this memo.
---
conclusion
Sencha Credit is building a consumer Brex. Their first product is, Sencha I, is debit card for the underbanked that builds credit like a credit card. By targeting college students for the Sencha I they can decrease CAC, *redacted*, and enter customers into a multiyear funnel to upgrade to the next Sencha card.
Sencha's will ultimately… *redacted*
Sencha is in the process of building a cult following. If the Sencha I is successfully launched, they will have the opportunity to build out a line of credit cards that could rival American Express.
Sencha is currently raising their pre-seed round. If you want to learn more about Sencha, reply to this email and I'll connect you with the founders.
---
leaving shore⛵: Open Water is raising a fund
Over the next few months, Open Water Accelerator will be raising a rolling access fund. Each Thursday we will include a section in the newsletter reporting on our progress raising the fund.
The fund has not been publicly announced yet; we wanted our subscribers to be the first to know.
If you are interested in investing in or learning more about the fund, please fill out the form below.
---
tech and vc internships 🖥️
Exclusive opportunities curated for Open Water Weekly Subscribers. Subscribe today to receive founder interviews and job opportunities delivered directly to your inbox.
---
tuesday…
Tuesday's letter will feature an interview with a seed stage VC, more early stage deals and remote job opportunities.